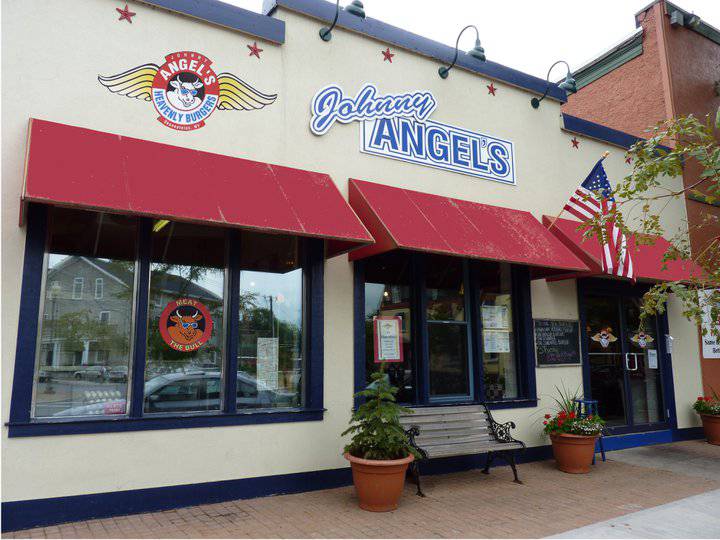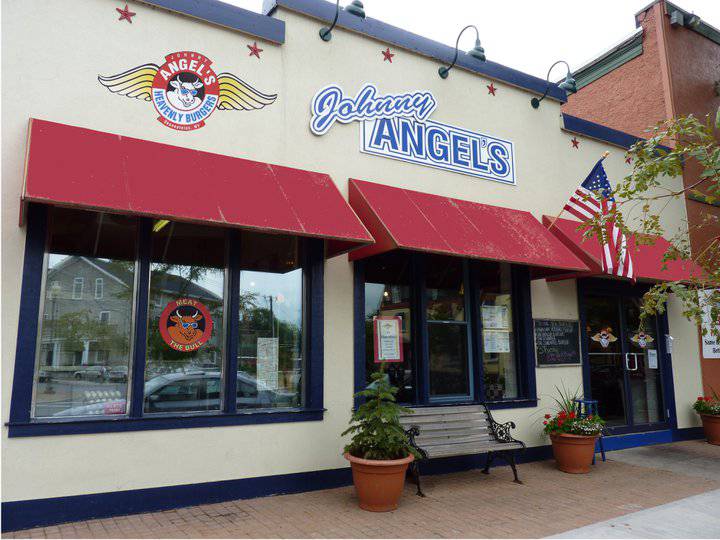 Johnny Angel's
HeavenlyBurgers · American Restaurant
Origination
Our Beef is from domestic steer, strictly corn and grain fed. This is a Tyson product, formerly IBP; both companies have an excellent inspection record The product is an aged Choice Grade product with no trim. Once here in the building, Johnny Angel's maintains a complex moisture control cooling system preventing the beef from drying out. The room is also set at 36 degrees, 8 degrees below the Department of Health requirement. The cooler has six large windows for full viewing for the customer.
Fresh and Flavorful
Our Beef is never frozen. The cell structure remains in tact, sealing in all the nutrients and flavor. The product is ground and pounded in the cooler for your viewing pleasure! We leave the add-ons up to you with a full produce bar, condiments of every kind, special sauces and dressings upon request. You can order your burger from Rare to Well, heck you can order them raw if you'd like. Take them home and cook 'em! We carry an assortment of high quality cheeses: American, Hearty Swiss, White Cheddar, Crumbly Bleu, Pepper Jack, Shredded Mozzarella, and Provolone. Thick, Hearty Applewood Smoked Bacon is also an option.
(A note about frozen beef; the cell structure is shattered and the product runs out while cooking. Frozen beef always shrinks and shrivels up, some more than others, you can literally see the moisture pour out onto a flat grill. That's why it has such a dry, grainy, flavorless taste when served plain.)
Safe
Our Beef remains shrink wrapped until it is cut and ground in the 36 degree cooler in full view. There is nothing added to the beef. The shoulder clod is rinsed with a sanitizing vegetable wash to neutralize and remove any bacteria; then we grind. The more serious illnesses related to beef are linked to the intestinal tract and the brain and spine; grinding from a shoulder clod diminishes the possibility of cross contamination with these products very close to 100%. There are never any filler or other beef products in our facility. The delivery trucks are bonded, metered and alarmed so if temperature fails during delivery the alarm sounds and the temperature meter is non- resetable (reefer breaks down, human error, engine failure….). The lettuce and tomato fields have a 5 year history of what has been grown and placed on the fields.
Many of these practices are above industry standards and result in a more expensive product. We take pride and care in ensuring that Our Beef is the purest and most flavorful beef on the market for the best sandwich on earth; the Cheeseburger. When you buy a Johnny Angel's Heavenly Hamburger you can depend on getting the highest quality beef available.
Please enjoy a Burger and Thank You for your business.